Located at 112 North Court Street, Georgetown, KY.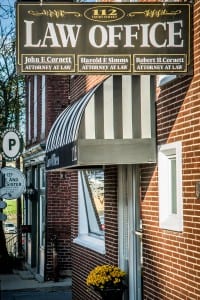 Facing a DUI charge? Need assistance in obtaining Social Security Disability?
Cornett Law Office's practice areas include DUI and criminal defense, personal injury and worker's compensation, filing for Social Security Disability claims, supplementary security income, alcohol intoxication, and more.
Our DUI law firm can help you determine the right approach to get results for your case. Located in Georgetown, our firm extends services to clients across Central and Eastern Kentucky including but not limited to Lexington, Richmond, Winchester, Nicholasville and Frankfort. If you or a loved one is in need of legal assistance, our experienced attorney will help you every step of the way.
Legal Knowledge and Experience
We take pride in having decades of experience when it comes to different practice areas. For years, John and Robert Cornett have helped clients face different situations requiring legal attention. With our extensive experience and knowledge in different legal fields, you can get the peace of mind that your defense is in the right hands.
Local Kentucky Lawyers You Can Trust
Our lawyers follow the highest standards of professionalism and ethics when helping clients. We work with your best interests in mind and protect your rights throughout the legal process. We serve as your representative to authorities and provide factual arguments and evidence for your case. Our attorneys will also guide you throughout any legal proceedings and discuss your options. With our guidance, you won't feel alone during your time of legal need.
Our attorneys, John E. Cornett and Robert H. Cornett, both practice law from our Georgetown location. Allowing them to service clients throughout Central and Eastern Kentucky including Fayette, Madison, Clark, Bourbon, Jessamine, Woodford, Harrison, Franklin, Owen and Grant counties. Together they have over 60 years of experience practicing law in Kentucky.
Set an appointment with our experienced lawyers today. Contact us at (502) 868-5300 for a free legal consultation with one of our attorneys.